Back in the day, Grandendroit was not Grandendroit. It was two guys, Eli and Seth, trying to maybe get some games out there. I have pretty much always been working on games, even though I didn't do it via video games until I was 11, with a sweet TI-83 game called "Fight!". As a result, I decided to take one of the most fun game prototypes I had worked on, "Sinuosity" (from 2008), and turn it into an iPhone game. I really felt like it could fill a niche and regardless was super fun. You can have a look at Sinuosity here:
Play Sinuosity at otcsw.com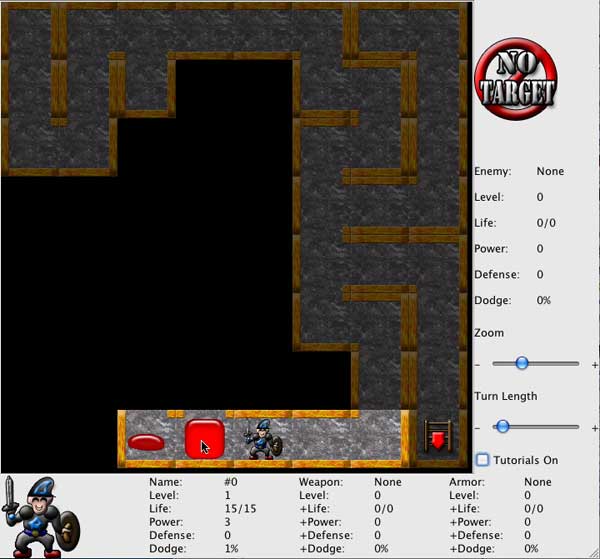 Our idea was to spruce the game up by making it pretty, giving it a story, and polishing off the rough edges. We discussed theming ideas and eventually came up with the thought of making it take place in a super hero universe. We named it Lab Rinth. We named the country in the game Grandendroit. The main character became a wannabe superhero and the bad guy a super villain. Cool beans. We wrote a script, did some art, did a lot of code, ported the game to Unity, and more. We spent over a year on it, in fact.
In many ways, Lab Rinth is sort of a more lite and casual Diablo. The enemies in the game were damn good at finding the player. They would use A* pathfinding to home in on the player and move exactly to where they were, even if they were on the other site of a wall that was 50 spaces of running around corners away. This was both inefficient and also semi-lame gameplay. As an experimentation, I wanted to see if they'd be more interesting if they were dumbed down a bit to simply have a steering algorithm. So they'd move in the general direction of the player and try to navigate around walls and like naturally as they turned.
The finer points of the pathfinding will be discussed in a later post, but the end effect was that I found the results very interesting. I noticed that if I dynamically moved the walls around while the characters moved, they reacted in emergent ways. It was almost like you could control them without actually controlling them.
The timing was right, because soon after there was a Ludum Dare 48 hour game competition. When the theme was announced as "Escape" and I already had these characters that simply run forever, I thought I had a great idea. Why not draw walls with the mouse so that they dynamically steer, and also block traps and things like arrows as they are fired? That turned into the 48h game, "Death Boulder Jones." Sound familiar?
You can play Death Boulder Jones here.
Soon after the competition was over, we realized that Lab Rinth was super ambitious for two guys who were working part time. Even though we got help from some other artists (Darrell included), the going was quite slow. It also is much less of an attention grabber than DBB in a lot of ways, because it doesn't bring as many big new ideas to the table. So it was that we tabled Lab Rinth temporarily and decided to spend "just like 3 months" on our game Death Boulder Bones to get a game out there.
That was September 2011. If you're counting, it's now over a year later and we're still working on it. The current charted release is July. But, I think that's good. Instead of rushing out this hokey little game prototype, Death Boulder Bones is now a totally awesome full indie gaming experience.